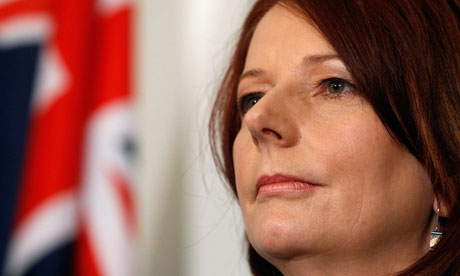 Australia has its first female prime minister, Julia Gillard, after Kevin Rudd stepped down as Labor party leader, avoiding a ballot he was certain to lose.
In an extraordinary day in Australian politics, Gillard told a media conference in Canberra's Parliament House she was "truly honoured" to become prime minister.
The 48-year-old who came under attack in 1998 when she entered parliament for being single and childless, said it was also an important milestone for Australian women.
"I think if there's one girl who looks at the TV screen over the next few days and says 'Gee, I might like to do that in the future', well that's a good thing," Gillard told reporters.
Gillard, who was born in Wales and came to Australia in the 1960s with her parents, said she accepted her new role with "the greatest humility, resolve and enthusiasm" because she believed a good government was losing its way.
Gillard said she would stay in a suburb in Melbourne's north, and not move into the prime minister's Canberra residence, The Lodge, until after she had won the next election.
"I'm very happy in my home in Altona (in Melbourne's north) … very happy in my flat in Canberra," she said.
"Indeed, I believe it is appropriate for me to stay there until we have an election and I have fulsomely earned the trust of Australian people to be prime minister."
Her historic – and unexpectedly swift – rise to the top job was sparked by a report in yesterday's Sydney Morning Herald that Rudd had used his chief of staff, Alister Jordan, to sound out the backbench on the level of support for him. This followed a Herald/Nielsen poll which showed the government would lose if an election were held now.
Gillard, who had been publicly and privately loyal to her leader, was livid, and regarded Rudd's action as a sign that he did not trust her repeated assurances that she would not stand.
"It was offensive and disloyal," said a Gillard supporter.
It led to a push to oust the leader, and in the end Rudd, aware he didn't have the numbers, stood aside this morning.
Rudd, who was once regarded as Australia's most popular prime minister which led to him being known as "Mr 60 Percent", for his high approval ratings, has seen his support plummet to record lows this year as the nation reacted angrily to a series of government U-turns on key election promises.
The most damaging was the decision to shelve its flagship emissions trading scheme until 2013. He also came under fire over plans to tax the "super profits" of the key mining sector by 40%, earning the wrath of resources firms and their many shareholders.
Rudd, the first Labor prime minister to be dumped by his party before he could complete a term in office, was in tears today as he declared "I have given it my all".
He said he was particularly proud of the apology to the so-called stolen generations – the tens of thousands of Aboriginal children taken from their families in a strategy of white assimilation only abandoned in 1970.
"What I am less proud of is the fact that I have now blubbered," a teary Rudd said.
He said he would stay on and fight for the re-election of the Labor party at the next election.
Gillard's partner, Tim Mathieson, said he was greatly surprised at the rapid chain of events that led to her appointment to lead the country.
"She will absolutely be a fantastic prime minister,'' Mathieson said. "She has the right mindset and she is very consultative.
"I am so proud to be her partner and to be able to support her today.''
In parliament this afternoon, Gillard defended her role in the leadership ambush of Rudd, saying she did what was best for her party and the country.
"I formed the view that the best way of making sure that this government was back on track … was to take the course that I took last night and this morning," she said.